Now, become a Warrior of Light and head to the distant land of Luxendarc...

Announcement trailer.
Bravely Default, released in Japan originally as Bravely Default: Flying Fairy is a role-playing game for the Nintendo 3DS. Character design is done by Akihiko Yoshida and Silicon Studio.
Although the game has an original title, it is considered a spiritual successor of Final Fantasy: The 4 Heroes of Light, a "Gaiden" or "spin-off" of the main Final Fantasy series, by its creators. The game follows the traditional Final Fantasy storyline of crystals and the Warriors of Light with the traditional job system gameplay, and the "Flying Fairy" in the Japanese title alludes to Final Fantasy by having the same initials. The game spawned its own series, the Bravely series.
Bravely Default: For the Sequel, the upgraded version of the original game upon which the American and European versions of Bravely Default are based, was released on December 5, 2013, in Japan.[3]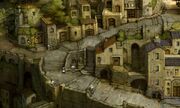 While the characters are rendered in polygonal 3D, the game's backgrounds are hand-drawn with the various location elements "popping out" of the screen thanks to parallax scrolling and the 3DS auto-stereoscopic technology. A traditional 3D world map also makes an appearance. The playable characters can interact with each other using a Party Chat system, where battles are interrupted so that the player can watch a cutscene. These Party Chat scenes expand the story and suggest game strategies.
Bravely Default is a turn-based RPG with random encounters and a battle system focused on the job system. The game uses a system of stocked points called "BP" (Brave Points) which characters use to gain extra turns. Every character has a personal set of BP. The "Default" command skips a turn to stock a BP, and the "Brave" command uses that BP to move up to four times.
Players can drop into up to -4 negative BP, which will result in a combo of turns; subsequently enemies receive multiple turns in a row until BP returns to 0. BP can be transferred between party members using certain job-specific abilities. The "Friend Summon" system has players summon the characters of other players using either data transfer between the player's friends, or 3DS Streetpass system between strangers. When a Friend Summon is used repeatedly, it will grow in "Affection" and become stronger.
The job system is similar to that of Final Fantasy V in that characters learn abilities from using jobs. Job commands are class's special skills, such as Magic and Attack. Support abilities are automatic skills, like HP +10% or Cover. Aside from the command associated with the currently-equipped job, a secondary command from a different job can also be set, creating a complex customization system. Support abilities can be customized, but each has a set "cost" as to how many support abilities can be placed on one character.
Growth in job mastery is represented by job levels. As characters use a class more frequently in battle, their job level increases through accumulation of Job Points (JP). Bravely Default features a special system called "Abilink", which allows players to borrow the job levels of their friends' characters.
Limit Break-style attacks, called "Special Moves", are powerful finishing moves based on weapons not unlike Weapon Skills from Final Fantasy XI that can only be used under special conditions. Each of the nine weapon-types has 1-3 levels of attacks for a total of 27 Special Moves. The attack names, dialogue when used, and after-effects (such as status effects, elemental properties, better damage versus certain enemy types) of these moves can be customized.
After a Special Move is activated, the background music will change to a unique theme based on the character, and the move effects can stack if used sequentially before the music ends. All weapon types have set proficiency that affects the learning rate and damage of each weapon and Special Move. They are ranked S-E and vary from class to class: for example Freelancers have a B rating in all weapons. The effects are time-based and will last for approximately a minute and a half until the Special Move theme is finished, regardless of whether the player is attacking, selecting the commands, or doing nothing.
Job system
Edit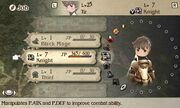 The game employs a job system that is slightly different from the system in Final Fantasy: The 4 Heroes of Light. A special item, called asterisk, is needed to change jobs. Along with the starting job, Freelancer, a total of 23 jobs can be obtained and each job has its own level capped at 14. Only 8 jobs are acquired via the main questline, the rest being the rewards of the sub-scenario quests.
Like its progenitor series Final Fantasy, summoned monsters appear, but the traditional summons, like Ifrit and Shiva, are absent. The new summons include: a giant scorpion with a city on its back, Girtablulu (Earth); a black bird that can take the shape of a plane, Hresvelgr (Wind); a woman with wild flowing hair who controls Ice, Ziusudra's Sin (Ice); a flaming train that bears a resemblance to Doomtrain from Final Fantasy VIII, Promethean Fire (Fire); the clockwork spider, Deus Ex (Lightning); and Susano-o (Non-Elemental), a warrior-god in black armor.
Minigames
Edit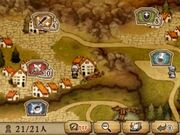 Only one minigame appears and is centered on rebuilding Tiz's home, Norende Village, by recruiting people using Streetpass or the internet. It normally takes hundreds of hours to complete, but that can be mitigated using Streetpass to increase the population. Special shops can be built here, such as a "Special Move Parts" shop to unlock additional properties which can be customized to Special Moves. Normal shops built here over time stock powerful unique equipment that can't be found elsewhere.
Luxendarc is the land of light and shadow where many countries exist: the scenic kingdom of Caldisla where Tiz ended up after the destruction of his hometown, Norende; the desert country of Ancheim, home to the Temple of Wind and known for its large wind-powered clock; the flower-filled haven of Florem; the oceanic nation of Grandship; the war-ridden land of Eisenberg; and the tundra Duchy of Eternia.
Characters
Edit
Agnès Oblige, a 20-year-old woman (17 in the Japanese version) who is the vestal of wind, sets off on a journey to cleanse the Crystals that have been corrupted by a darkness.
Tiz Arrior, a 19-year-old man (16 in the Japanese version) who miraculously survives the calamity that left a hole in a region of Caldisla. He's deeply depressed of having been unable to save his young brother and sole relative.
Edea Lee, an 18-year-old woman (15 in the Japanese version) with a strong sense of justice who originates from Eternia, and was raised in a strong household with her father as her duchy's leader. Though sent to capture Agnès on a mission for the Eternian Army, she instead aids the vestal after seeing the horrible actions of her father's army.
Ringabel, an amnesiac man of unknown age traveling around the world seducing women with his adolescent charm. He is in possession of a special book called "D's Journal" that seems to predict the future.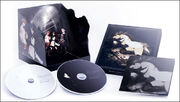 The game's music is composed by Revo from the Japanese musical group Sound Horizon. Members of the said group include RIKKI, known for her work "Suteki da ne" for Final Fantasy X, and Joelle, known for "Plains of Eternity" from Final Fantasy XIII-2. A single was released on August 22nd, 2012 in Japan and includes a redeemable code for a special in-game equipment. The 2-disc soundtrack includes a fold-out stand for the four protagonists Tiz, Agnès, Edea, and Ringabel.
Ordering the game's original soundtrack rewards a knight costume for Agnès and the ability to equip the character's respective default outfit regardless of job. However, the game must first be registered to Japanese Square Enix Member's site. Purchasing the supplementary album Luxendarc's Big Diary, with Revo's arranged versions of music from the game, rewards the player with the "Melodist's Shirt" outfit.
Development
Edit
Bravely Default entered development as a Nintendo 3DS sequel to Final Fantasy: The 4 Heroes of Light, but Square Enix decided to repurpose the game as a new yet related IP with an original title so as not to confuse modern-day Final Fantasy fans, as the game's direction is different from the modern games of the series, and closer in style to the older installments. The development team settled on the name Bravely Default: Flying Fairy so that the subtitle would abbreviate to "FF", as a reminder of the game's origins.[4]
According to the producer Tomoyo Asano, the "Bravely Default" means "Have courage and renounce the promises and responsibilities that are expected of you. In other words, don't just blindly do what you're told, act according to your will." This is the core theme behind the game's scenario, mostly seen in Sage Yulyana's words of encouragement for the party to "have the courage to think and act" and to "have the courage to disobey." One of requests the Asano made of Hayashi is that he wanted emphasis placed on the characters and scenario that would surprise players. Asano explained further that he wanted both good and bad guys to have appeal and likeability.[5]
Kensuke Nakahara, director and head of development at Silicon Studio, has said that the main challenge was to make Bravely Default: Flying Fairy a "traditional" RPG, and not an old-fashioned or overtly nostalgia-inducing one. He noted that there are many Dragon Quest and Final Fantasy fans on the development team, and many ideas they threw around were the sort that had been seen in previous titles, and would please many fans, but the developers wanted to avoid including things just to give players twinges of nostalgia.[6]
Battle system
Edit
The main novelty in the battle system is the option to default on a turn to store up battle points for later use, or select "brave" to execute multiple actions in a single turn. It had always annoyed director Nakahara whenever bosses in Dragon Quest or Final Fantasy got to do two different attacks in the same turn, and the team discussed something in the battles that would be simple yet provide a chance for deeper strategy, such as the "charge" command in the Dragon Quest series.[6]
When the project first got started it was a standard RPG akin to Final Fantasy III or Final Fantasy V, but the concern was it wouldn't be a good decision for a new IP like Bravely Default. With the battle points system, Nakahara felt like it had the chance to turn the whole game around.[6]
The story was designed to be comedic up to the point the player starts liking the characters, and develop the drama, director Tomoyo Asano has explained. He used the methodology of American TV dramas, like the older Beverly Hills 90210 and Glee, as references.[7] Asano has described Bravely Default as a traditional JRPG with American content thrown in.[7]
Production credits
Edit
Director
Kensuke Nakahara
Producer
Tomoya Asano
Lead Artist
Main Character Design
Akihiko Yoshida
Scenario Writer
Naotaka Hayashi
Music
Revo
Naotaka Hayashi, the scenario writer on Steins;Gate and Chaos;Head, wrote the story for Bravely Default: Flying Fairy.[8]
According to Dengeki PlayStation, Bravely Default has several guest designers who did character and job design concepts:[9]
Atsushi Okubo, the author of the manga Soul Eater, designed the character Einheria Venus and the Valkyrie job costumes.
Hideki Ishikawa, an illustrator who has worked on various card games including Lord of Vermillion Re:2, designed the character Erutus Profiteur and the Merchant job costumes.
Makoto Tsuchibayashi, the character designer and illustrator for Capcoms's Sengoku Basara series, designed the character Kamiizumi and the Swordmaster job costumes.
Foo Midori, a freelance illustrator on various online games and light novels, designed the character Qada and the Salve-Maker job costumes.
Take, the character designer on Katanagatari, designed the character Victoria and the Arcanist job costumes.
Voice cast
Edit
Character
Japanese
English
Tiz Arrior
Mitsuki Saiga
Bryce Papenbrook
Agnès Oblige
Ami Koshimizu
Erin Fitzgerald
Edea Lee
Mai Aizawa
Cassandra Lee Morris
Ringabel
Ryōta Takeuchi
Spike Spencer
Airy
Makoto Tsumura
Stephanie Sheh
Barras Lehr
Hōchū Ōtsuka
Kirk Thornton
Holly Whyte
Chiaki Takahashi
Rachel Robinson
Ominas Crowe
Sōichirō Hoshi
Kyle Hebert
Argent Heinkel
Takaya Hashi
Richard Epcar
Jackal
Nobuyuki Hiyama
Michael Sinterniklaas
Erutus Profiteur
Masaki Terasoma
Christopher Corey Smith
Ciggma Khint
Keiji Fujiwara
Dave B. Mitchell
Eloch Quentis Khamer VIII
Tetsu Shiratori
Terrence Stone
Artemia Venus
Hiroka Nishizawa
Kira Buckland
Mephilia Venus
Satomi Arai
Karen Strassman
Einheria Venus
Yûko Kaida
Cindy Robinson
Fiore DeRosa
Jōji Nakata
Steve Staley
Qada
Chafūrin
Kaiji Tang
Praline à la Mode
Fumie Mizusawa
Stephanie Sheh
Hayreddin Barbarossa
Kōsei Hirota
Michael Sorich
Konoe Kikyo
Eri Saitō
Valerie Arem
Nobutsuna Kamiizumi
Hikaru Midorikawa
Liam O'Brien
Victoria F. Stein
Kanon Tani
Carrie Savage
Victor S. Court
Daisuke Ono
Lucien Dodge
Braev Lee
Takehito Koyasu
David Sobolov
Alternis Dim
Ryōta Takeuchi
Spike Spencer
Lester DeRosso
Hiroki Tōchi
Popeye Vogelsang
Sage Yulyana
Hiroshi Masuoka
Cam Clarke
King of Caldisla
Chafūrin
Dave Mallow
Sir Owen
Kaito Ishikawa
Keith Silverstein
Innkeeper Karl
Hideyuki Umezu
Paul St. Peter
Matriarch
Wendee Lee
Olivia Oblige
Laura Post
Zatz Mightee
Christopher Corey Smith
Datz Mightee
Kyle Hebert
Proprietress
Mona Marshall
Daniel Goodman
Steve Staley
Saranish Steiner
Christopher Corey Smith
Savish Neuer
Stephenie Sheh
Egil
Fumie Mizusawa
Mona Marshall
Ouroboros
Nobuyuki Hiyama
Anne
Makoto Tsumura
Stephanie Sheh
Magnolia Arch
Ayumi Tsunematsu
Amanda Winn-Lee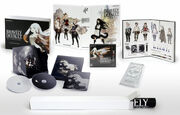 The collector's edition was exclusively acquired through the Square Enix eShop. It includes a copy of the game, the first print run of the game's original soundtrack, an art album, an original protect case for the 3DS, and a life-size AR poster.[10]. It was sold for ¥12,800. The standard edition of the game was available for ¥6,090.
Bravely Default: For the SequelEdit
The game was re-released in Japan; this version, called Bravely Default: For the Sequel, contains several modifications. Save data from the original version is carried over. It was released on December 5, 2013[2] as a stand alone release and as a downloadable content upgrade.[11]
The following are the modifications made from the original game:
Auto-battle system
Battle speed-up
Bravely Second mechanic
Ability to change encounter rate
Upgraded town graphics
Improved character interface that now shows the stats on the bottom screen
Improved battle interface that now shows the command input
Added English language option
Two additional save slots
Event viewer
Revisions in the game events involving the asterisk
Overseas release
Edit
On April 17th, 2013, six months after the game's original release, Nintendo announced it would be localized and that the title would be released in 2013 for Europe and 2014 for North America. On July 31st, 2013, however, the release for the European region was pushed to 2014.[12] only to be moved again to December 2013. On August 29th, 2013, it was revealed the game would be known as Bravely Default: Where the Fairy Flies[13] when it releases in the West, and will be based on the For the Sequel version of the game that would be be released in Japan in December 5, 2013.[14] The game, however, was released as Bravely Default in Europe and North America, and the new subtitle was kept in the second title screen before loading the saved game.
The western release has been modified with characters' outfits made less revealing and some characters have been aged a couple years compared to the Japanese game.
The game spawned a free-to-play web browser game, Bravely Default: Praying Brage, and a sequel, Bravely Second: End Layer. Another game called Bravely Archive, was released in Japan targeting mobile devices in January 2015. Another title called Bravely Default: Fairy's Effect was released in Japan on March 23, 2017.
On February 27th, 2012, it was confirmed the game would have several demos, each concentrating on one of the game's aspects, and two days later, on the February 29th, 2012, the first demo, titled "Demo + AR Vol.1 - Crystal Maiden Volume", was released on February 29th, 2012.[15]
A second demo, titled "Demo Vol.2: Heroes of Despair Volume", was published on March 29th, 2012.[16] It allows to control Tiz, as well as walk around a town, visit a shop, and interact with its citizens.
A battle demo was released on June 27th, 2012, which allows for a sampling of the game's battle system, with players selecting two jobs from a total of four available, and makes use of the "Brave & Default" system. It contains an AR movie focusing on Edea Lee.[17]
A fourth demo was released on August 1st, 2012. It gives control to the first three playable characters as they fight through a dungeon and battle a golem boss. This demo features full control of the game's battle system and comes with an AR movie focusing on Ringabel.
The final, fifth demo, was released on September 12th, 2012, and includes all elements from the four previous demos, and adds Friend Summons, Abilink, and the Norende Village recovery system. Players can carry up to 20 friends into the Norende in the full game. With the release of the fifth demo, the previous four were removed.[18]
An English demo was released on the 3DS eShop on November 15th 2013. It doesn't include any story relevant to the full game, and serves to show players the mechanics and feel of the game.[19] The demo was met with favorable reviews from the general public, but was considered lacking due to having no story elements. The demo includes the full brave/default battle system as well as the partial world map, three dungeons and the town of Ancheim. The demo allows the player to build a part of Norende Village, which transfers over to the full game when played for the first time. The demo rewards players with items when defeated certain dungeons and performing actions in the demo which "help players early on".
Reception
Edit
Famitsu gave the game a 10/9/9/10 (38/40).
For the overseas release, Bravely Default currently holds an aggregate 85 rating on Metacritic, out of 65 reviews.[20] General points of praise include the innovations to the combat engine, the beautiful maps, the soundtrack, and the English voiceovers and localization in general. It received an 8.6/10 from IGN[21] citing "Bravely Default embraces both genre traditions and new ideas, and the result is one of the best JRPGs of recent years." Many websites and opinions state that that game is what fans had been requested from Square Enix for a while, with Metro saying "this becomes the best Final Fantasy game that never was."[22] The primary point of criticism, both among professional reviewers and the wider fanbase, was the structure of the last few chapters; many felt the game became too repetitive.
Bravely Default was made only with the Japanese audience in mind, and the substantially positive reaction to it overseas surprised and warmed its developers, leading to Square Enix to reconsider their global strategy for JRPGs.[23]. In reaction to the review scores the game first saw in Europe, the Bravely Default Twitter account tweeted: "Bravely Default is a game that was designed only taking RPG fans in Japan into consideration. We thought overseas expansion was impossible. Seeing this much anticipation moves me deeply."[24]
As of July, 2014, the game had sold over 1 million copies, most outside Japan.[25]
3DS Game of the Year (GameSpot)[26]
Future Game Award (Tokyo Game Show)
While it was hinted in a conversation between Yasumi Matsuno and Akihiko Yoshida,[27] the director Tomoya Asano, in a September 2013 interview with Famitsu, confirmed that a sequel was in development, and that one of the implementations present would be a battle system less like the traditional turn-based model.[28]
On December 4, 2013, the sequel to Bravely Default, titled Bravely Second: End Layer, was revealed in Jump magazine. Like its predecessor, the game is for the Nintendo 3DS, takes place in the same world, and involves a new character named Magnolia Arch.[29]
Packaging artwork
Edit
Allusions
Edit
Bravely Default has callbacks to the Final Fantasy series, especially Final Fantasy: The 4 Heroes of Light, of which it is most based on, among other references.
External links
Edit
References
Edit

de:Bravely Default fr:Bravely Default: Where the Fairy Flies pt-br:Bravely Default ru:Bravely Default: Where The Fairy Flies
Community content is available under
CC-BY-SA
unless otherwise noted.