What am I doing? Isn't it obvious? I'm killing fairies. Plucking their little fairy wings.
Hmm... how many has it been? I was counting. But then... I stopped counting. Ha ha... ha ha ha!

Mephilia to Edea
Mephilia Venus is a non-player character in Bravely Default, Bravely Default: Praying Brage, and Bravely Second: End Layer. She is a member of the Bloodrose Legion, one of the Venus Sisters, and keeper of the Summoner asterisk.
D's Journal EntriesEdit
Bloodrose
A legion member who infiltrated Florem. Her emotional scars from the pain she has been through caused her to embrace darkness and destruction.
A twenty-four-year-old woman from Eternia. Her name is Mephilia Venus, and she holds the summoner asterisk. Her mind is broken, and she delights in seeing the destruction of beauty.
AppearanceEdit
Mephilia is a 24 year old woman with red eyes and long green hair with purple tips, with part of it held in a bun, while the rest hangs down. She has a colorful hair ornament, made of four "feathers" that are pink, blue, yellow, and red, held together by a decorative brooch. She has a black choker, with metal shoulder-guards, with pink, blue, and yellow "feathers" going outwards. She has metal cuffs on her wrists with a small, green gem at the middle of each cuff. Her dress is a black strap dress that has the ends cut into diamond-like shapes, which are tilted outwards, with multicolored diamond-like fabric pieces filling in the gaps of the dress. The dress also has four small gems, two green and two blue, that go down the front of the dress. She also has brown stockings with tall, black, high heeled boots. Her weapon of choice is a rod she named Arianrhod.
PersonalityEdit
Mephilia is wholly devoted to her older sister Einheria, though she tended to argue with her when it came to Suleiman. As a genius prodigy in the summoning arts, Mephilia also has a sixth sense, allowing her to see what normal people cannot. After Suleiman's death, Mephilia suffered a bout of insanity that made her sadistic during her time in the Bloodrose Legion and seeing anyone but Einheria as scum. But as the group travels to other worlds, they encounter increasingly sane versions of Mephilia.
In Bravely Second, Mephilia regained her sanity despite still seeing most people as scum but making more exceptions besides Einheria.
Bravely DefaultEdit
Bravely DefaultEdit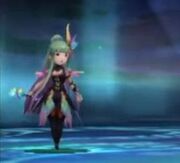 As a summoner, Mephilia uses monsters and Bloodrose Legionaries to do her dirty work.
Her most powerful attack is the summon Girtablulu. It is highly recommended that this attack is preempted and defaulted against in order to reduce the amount of damage taken.
Bravely SecondEdit
Mephilia is fought as part of a sidequest.
Creation and developmentEdit
Mephilia is voiced by Satomi Arai in the Japanese version.
She is voiced by Karen Strassman in the English version. She shares this voice actress with Rosa Farrell and Barbariccia from the 3D version of Final Fantasy IV. And Bella from Bravely Second.
Other appearancesEdit
Mephilia appears as an obtainable unit.
Other mediaEdit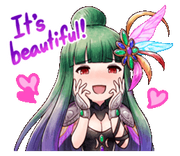 Mephilia appears on a sticker set for the LINE communications app. The sticker set she appears in is titled "Bravely Stickers - Volume 2".[1]
Bravely Default
Bravely Second: End Layer
EtymologyEdit
Her name may consist of two Greek words: Me (negation) and philia (loving), or in other words, "Unloving."
Her name may also be derived from Mephistopheles, a demon from German folklore. He first appeared in the classic German legend of Faust.

The Square Enix cafe Artnia has a drink called Mephilia.
ReferencesEdit